What is vLex Mobile?
vLex works on any browser or device including desktops, tablets and mobile phones. But in order to offer an even better user experience, vLex offers vLex Mobile, a native application for iOS and Android.
Benefits
We know it is important for you to always be up-to-date and able to resolve legal questions that arise at anytime, anywhere. We created vLex mobile specifically to allow you do so.
With vLex Mobile we bring all the power of vLex to your smartphone. Download vLex mobile and have access to the most complete legal information consultation tool on the market. Wherever you are, you will have access to the vLex search feature and all of its documents, converting your device into your best ally in keeping you always updated. 
Characteristics:
Personalized news, based on your SmartTopics: Don't miss out on any legislative changes and save time with SmartTopics. View, in real time, the most relevant documents from a particular legal concept on your smartphone or tablet.
Simple universal search feature:  Have the power of the vLex search engine on your mobile device. Go to "Search" and enter the terms you are looking for. View SmartTopics, featured documents, popular terms, sources, etc
View all of the vLex contents available in your plan or open access, including links between documents.
Quick access to favorite documents: If you have already marked documents as favorites, you can see them in the vLex Mobile app. Go to the Favorites option in your vLex menu and there you will find your folders. You can also create new folders within the vLex app.
Content available on vLex Mobile
On vLex Mobile you will be able to see all of the content that in available in your plan, whether it be vLex Open, vLex for Professionals, vLex for Academics or vLex for Bar Association Members. Access to documents outside of the plan is still made available through the use of vLex credits.
How to install vLex Mobile?
Download  vLex Mobile to your smartphone
Buy vLex credits using the vLex Mobile app
Do you want to view content that is not available within your purchased plan? vLex credits allow you to view documents or premium features that are outside of your plan. Go to your profile to see your credits balance or buy new credits by selecting the "My vLex credits" option in the "My subscriptions" section of your profile. The purchase is completed using Google Play (on Android devices) or App Store (on iOS devices), so that you can make your payment securely.
The points that you buy in vLex Mobile will be consumed the moment that you access the document. If you have already purchased points from the vLex desktop version, you can also use them in vLex Mobile without having to purchase them again.
5 reasons to download the vLex Mobile app
1. Have legal news in the palm of your hand
Convert vLex Mobile into your best ally, always keeping you up-to-date on legislative, jurisprudential and doctrinal news.
Define your interests through the exclusive SmartTopics feature and let the app show you the latest news specially selected for you.
2. Complete Access to vLex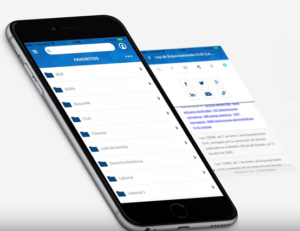 Using the vLex Mobile app you will have access to more than 26 million documents, wherever and whenever you need it.
+22 million legislative texts
+34 million judicial resolutions, both national and international
+130,000 doctrinal resolutions
+3,000 books and magazines
+17 legal practical guides
Enjoy all of your vLex subscription content as well as access to premium documents through the vLex credits feature
3. Favorites and folders
Your folders and favorite documents are synchronized so that you can access them via mobile app, and you can share documents that you have liked by email or on your social networks!
4. Resolve doubts

Wherever you are, you will have access to the vLex search feature and all of its documents.
Thanks to our predictive search and autocomplete, searching on your phone is very simple.
5. Designed to work on smartphones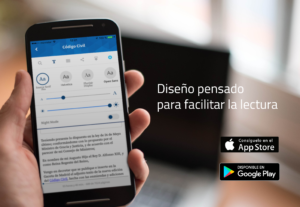 vLex Mobile has been specially designed to work on smartphones, this includes features that facilitate reading and the ability to save documents for later consultation offline.
This post is also available in: Español